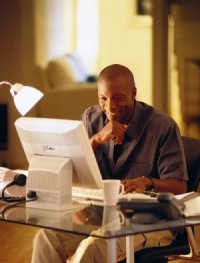 Telework…What's in it for employers?
Why should companies want a telework program? Let us count the ways teleworking has been shown to benefit employers:
Improves performance
Reduces stress
Increases employee commitment and engagement
Increases employee satisfaction
Increases retention
Improves recruiting
Can reduce facilities costs
Unless we're talking about producing widgets, productivity isn't easy to measure. But company after company has found a way to measure their teleworkers' performance, whether it's by evaluating customer or coworker satisfaction, numbers of sales or simply the amount and quality of work produced.
The resulting evidence is overwhelming.  Here's a synopsis of the latest research, reported in the last two years.
A report from the Conference Board, Meeting the Challenge of a Dispersed Workforce, out early in 2009 found 80% of employers in agreement with this statement: "The payoff for enabling employees to work at a distance is such that it's worth any extra cost." Said Conference Board economist Linda Barrington, telecommuting is "no longer a cost-benefit issue. It is simply the reality of doing business."
A survey released last year by the Computing Technology Industry Association (CompTIA) found more than two-thirds of companies believe telecommuting has led to greater productivity, lower costs and better recruiting and retention.
The office of the Inspector General for Tax Administration now has 86% of its employees working remotely. The agency has been able to close a few offices, and "productivity levels have gone up every year exponentially," says Jennifer Donnan, who helped get the program going. All agency employees have laptops, and new technology allows them to conduct meetings online, saving on travel costs. Says a spokesman, "It's really pretty extraordinary."
An analysis of 20 years of studies involving more than 12,000 employees by Penn State researchers finds telecommuting has a "clear upside" and a positive impact on performance, turnover and stress.
The Kenexa Research Work Trends study compared input from 10,000 U.S. workers, both teleworkers and office-bound staff. The remote and home-based workers had more favorable opinions of their senior management and were more likely to see them as showing more concern for the wellbeing and morale of team members. They were more inclined to think their immediate managers treated people fairly, delivered useful feedback and demonstrated that employees were important to the organization's success. Remote and home-based workers were more likely to say they intended to stay with their organization. And finally, those who telecommute were more engaged than those who work in an office.
The case has been made, over and over again. But here's a tip: telework works best when senior management does it too. That relieves employees of the sense that "If I'm out of sight, even one day a week, I'll be low on the list when it comes to promotions and high when it comes to layoffs."
To bring these types of benefits to your company, request telework program information by getting started here.