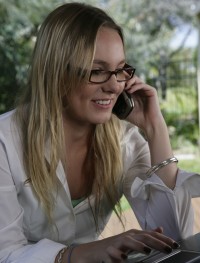 Telework . . . What's in it for employees?
Surveys differ on how many of the nation's employees would prefer to telework. Several studies, including one by Manpower and another by the City of San Diego, put the number at 80%. A Microsoft survey found the top three reasons workers would like to work from home are to save gas, be more productive and have fewer distractions.
It's not hard to convince employees that teleworking at least one day a week would be a welcome change. Here's what those who work from home say about it:
Teleworking allows more autonomy and control over how and when the work is done. Putting the focus on results gives employees what many want most − the sense that they're being treated like adults and trusted to do the job.
You can do the work when it works best for you. On telework days some say it works to spend a little time with children after school and put in a couple of hours before they're up or after they're in bed. Some people do their best work when others are sleeping.
It reduces stress. Most remote workers say their telework days are their most relaxed (and the days they seem to get the most done). A study of the 1,800 teleworkers produced by Georgia's Clean Air Campaign found nearly 90% reporting improved morale.
It improves work-life balance. While it's no substitute for childcare, telework does allow you to run an occasional errand or handle personal responsibilities in between work hours.
It saves time otherwise spent commuting. The U.S. Department of Transportation (DOT) says the average American worker spends anywhere from 42 minutes to one hour each day commuting to and from work. The 1,800 teleworkers from Georgia saved an average 107 minutes each telework day.
It reduces auto and other expenses.  A study by Sun Microsystems found that employees who teleworked 2.5 days a week saved an average $1,700 in gas and maintenance on their vehicles. Telecommuters' home expenses do go up a bit, mostly in the areas of higher communications and utility costs − but you also may save on office clothes, dry cleaning and lunches.
To enjoy these types of benefits, access the telework tools provided by eworkplace.
Telework Benefits
Tip
Concerned that out of sight might mean out of a job? Just because you're teleworking one or two days a week doesn't mean you should allow yourself to be invisible. Stay involved. Make calls. Send e-mail updates on where your projects stand and what you've accomplished. Don't let people forget you. If there's a meeting planned where your work will be discussed, make sure you're invited. Volunteer to make presentations or write reports that make your deliverables more visible.